Acid rain 1980s
In 1984, Friends of the Earth Cymru took a lead role in creating greater awareness of the problem of acid rain. We helped to bring about reductions in polluting emissions in Wales.
Road expansion 1990s-2009
Strong campaigns defeated a number of unnecessary road building projects, from bypasses through Snowdonia in the early 1990s, to the dualling of the A40 in west Wales and the monstrous Gwent Levels motorway in 2009.
Marine life protected 1995
A complaint to Europe, made jointly with Friends of Cardigan Bay to protect this rich marine habitat, forced the UK government to require environmental impact assessments for oil and gas drilling in all UK waters.
Sea Empress prosecution 1995
Following the Sea Empress oil spill at Milford Haven in 1996, we gathered evidence of the extent of environmental damage and prepared a legal case. The Environment Agency took up the case and successfully prosecuted the Port Authority in 1999.
"Filthiest" fuel defeated 1997
A campaign against Pembroke power station's plans to burn orimulsion, described as the world's filthiest fuel, succeeded alongside calls for greater support for energy efficiency and renewable energy systems.
GM-free Wales 2000
Our campaign to keep Wales free of genetically modified crops and to support environmentally friendly farming, launched in 1999, was unanimously backed by Welsh Assembly Members the following year.
Update: GM Free Wales at last as Welsh Government requests ban on all crops October 2015
Yes to wind 2000s
Busting myths about wind power, and campaigns in support of specific projects helped gain clean green energy from wind farms at Cefn Croes (2002), Tir Mostyn (2002), Gwynt y Môr (2009) and Wear Point (2010).
Severn Barrage sunk 2010
The long campaign against the large Cardiff to Weston Severn Barrage finally succeeded. The Government was urged to back less damaging ways of harnessing the energy potential of the Severn Estuary.
Climate change 2010
The Welsh Government, having been the first in the world to set annual targets to cut greenhouse gas emissions after our persistent lobbying, introduced an action plan including many of our recommendations.
Welsh Government commits to National Pollinator Action Plan 2013
The Welsh Government have announced their commitment to produce a National Pollinator Action Plan – a direct response to our primary campaign ask.
Great news for bees (in Wales at least!) and also for the campaign in its own right which is trying to shift public and political mindsets about the critical importance of biodiversity.
Wales Against Fracking Rally 2014
​Friends of the Earth Cymru organised a rally at the Senedd on Sat. 11th October, in conjunction with Frackfree Wales. We handed in over 1000 petition cards asking the Wales Govt. for a moratorium on fracking in Wales. Several hundred people were in attendance
Ground-breaking new Welsh law will help safeguard people and environment 17 March 2015
The Well-being of Future Generations (Wales) Act, is the culmination of three years' campaigning by the Sustainable Development Alliance – a coalition of 30 organisations, which includes Friends of the Earth Cymru.
It is a ground-breaking new law, which places a clear duty on public bodies to put the long term wellbeing of people, nature and future generations at the heart of all decision making. This law will come into full effect in April 2016.
Nant Llesg 2015
Following a long-running campaign by the United Valleys Action Group, Merthyr Tydfil FoE and local communities, Caerphilly County Council rejected a planning application for a massive new opencast coal mine at Nant Llesg, near Merthyr Tydfil. The proposal to extract six million tonnes of coal from the 478 acre site over 14 years was rejected on grounds of visual impact by 12 votes against and two abstentions.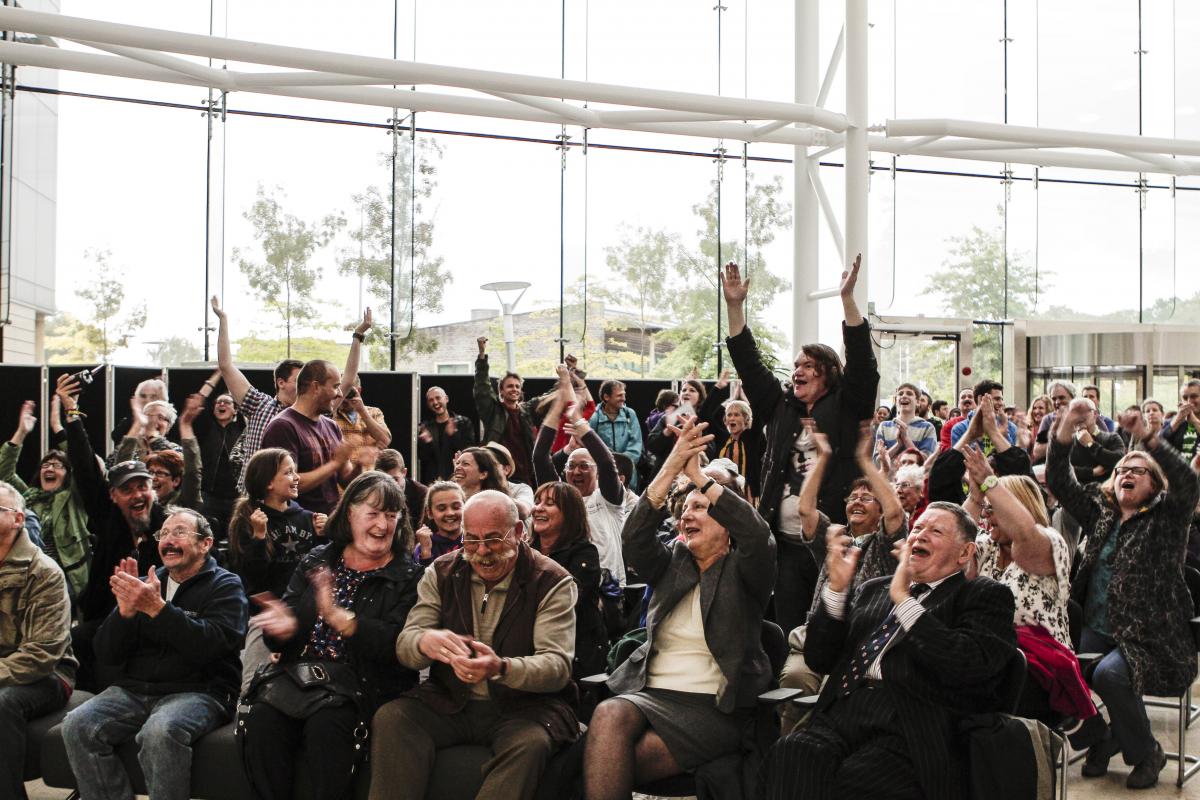 Bee Friendly Scheme in Wales 2016
Following on from our success in 2013 with commitment from the Welsh Government on the National Pollinator Action Plan, The Bee Friendly Scheme was launched Autumn 2016. It is a new Wales wide accreditation scheme, where communities, schools, universities, businesses etc. can achieve a 'Bee Friendly' status by completing creative and interactive 'tasks' under headings; habitat, forage, pesticides and community involvement. It is backed by the Welsh Government and the various nature and conservation organisations in Wales.