Beyond Recycling strategy has some nice surprises!
Published: 4 Mar 2021
Bleddyn Lake reflects on what the new Welsh Government circular economy strategy means for people living in Wales.
So, the Welsh Government's Beyond Recycling strategy was published this week (2 March 2021) but will it make the circular economy a reality in Wales? Yes, I believe it will. 
If anything, this strategy is even better than its consultation!
The direction of travel on waste issues by the Welsh Government has been very positive over the last few years and the consultation paper for this strategy further confirmed that these positive initiatives are likely to be carried on. Sometimes, however, final strategies can differ quite a bit from their original consultations. If anything, this strategy is even better than its consultation!  
There are some nice surprises (although more of that in a minute!), some innovative and joined-up thinking and a lot of things we can get truly excited about. 
We have known for a while that the Welsh Government supports the introduction of things like Extended Producer Responsibility, Deposit Return Schemes, the banning of some single use plastics and the introduction of charges on some single use items (eg a Latte Levy) 
We also know that Wales has had tremendous success in recycling domestic waste and in collecting and reducing food waste.  
This strategy now sets out a roadmap of where the government want to get to and various milestones on the road to zero waste. It also seeks to draw together different issues and solutions.  
Community action is a strong focal point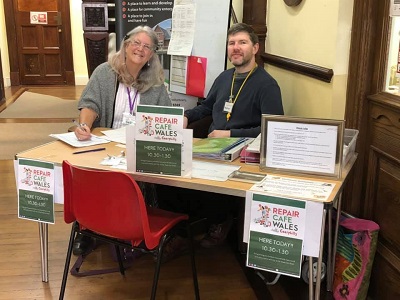 Town centres, for example, even pre-Covid, were in trouble. This strategy aims to regenerate town centres across Wales with some innovative thinking around the use of the share economy and reuse and upcycling schemes to create lots of local circular economies. This will help stimulate new jobs and bring life back to our local high streets. 
Community action is also a strong focal point and we will hopefully see many more initiatives such as repair cafes, libraries of things, toy libraries, community composting and local share schemes springing up around the country with more support being given to these initiatives. 
There are an awful lot of good things in the strategy, too numerous to go into one-by-one in detail but one thing that I'd like to highlight, as it is something that might slip through the net, is the announcement that they will:
"Build on current innovation in Wales by launching a national competition for innovation to tackle the challenge of hard to recycle materials."  
We are pleased that this suggestion has made it into the strategy as this is likely to stimulate a lot of good ideas and solutions that not only help to deal with materials here in Wales but also could potentially be used by countries all around the world.  
Now for the surprise...
Finally, if there is one thing that really catches the eye amongst the raft of very positive actions in the strategy it is this one: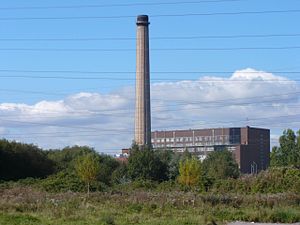 "Place a moratorium on any future large scale energy from waste developments, as the increase in recycling and reduction in waste already seen means that we will not need any new large scale energy from waste infrastructure to deal with the residual waste generated in Wales.
"We will also work with the UK Government to explore whether the introduction of an incineration tax would be desirable as a means to support progress along the transition to a circular economy"   
This is massive! It's huge! This ultimately signals the end of incineration in Wales. The raft of new ones mooted for different parts of Wales will not now go ahead.  
This is a quite spectacular victory for all those communities who have stood up and campaigned against incinerator plans in their areas both recently but also over the years.  
It should also now mean an end to plans to convert the old mothballed Uskmouth B power station into an incinerator. Not going ahead with this plan would, on its own, save over 1,550,000 tonnes of CO2 from being emitted each year for the next 20 years. 
The Welsh Government has obviously listened to the thousands of you that have flooded them with emails in recent months calling for incinerators to have no part in the circular economy strategy. 
It worked! We did it. Thank you!  
There is still of course an awful lot more still to do on waste and resource issues, to help make a success of these plans and to keep on pushing for other actions but this strategy is a very positive one and incorporates so much of what individuals, communities and organisations have been calling for years.
Is there anything else we would like to see?
Plastic bag charge exemptions 
I think we all know that the plastic bag charge in Wales has been a resounding success. It has saved countless millions of plastic bags from having to be produced in the first place thus saving a lot of energy and climate emissions (most plastic comes from oil) and also seeing a marked reduction in plastic bag litter on our streets, caught up in bushes and trees and floating around in rivers and along our coasts. 
This strategy says it will
"Review our ground-breaking charge on carrier bags in Wales and evaluate whether further action can be taken on these items." 
We know that sales of plastic 'bags for life' have been increasing recently which is a worry so further action is needed and then we have the issue of certain 'exemptions' to the charge which will presumably now be looked at again and tightened up.
Some pharmacies, for example, still issue prescriptions in plastic bags as highlighted about 18 months ago. Exemptions such as these are ripe for being dealt with and are an easy win in terms of reducing resource use and waste. 
Textiles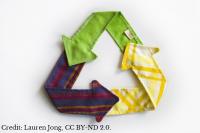 The contribution of the fashion and textile industry to global climate emissions is increasingly well understood with around 10% of worldwide emissions from this sector. 
According to the Beyond Recycling strategy…
"The production of everyday products – including cars, clothes and food – accounts for 45% of global carbon emissions. In addition, our level of consumption uses far more than our fair share of the earth's resources and is at the core of the climate and biodiversity crisis that we face." 
And the strategy promises to
"Develop additional infrastructure to collect and recycle household materials not currently widely recycled such as absorbent hygiene products, wood, plastic film, rigid non-packaging plastic, cartons, textiles, mattresses, carpets and waste electrical and electronic equipment." 
We think there are many opportunities in this sector for us in Wales from ensuring that practical things like clothing repair are on the national curriculum in schools, and that schemes such as school uniform swap and sport kit swap schemes are scaled up to become national initiatives, to support been given to sustainable fashion SMEs in Wales and for town centre regeneration schemes include clothing and textiles.
Indeed, we are excited to be involved in a new coalition of groups and businesses in Wales which is coming together to produce a joined-up plan on these possibilities. 
Baby bundle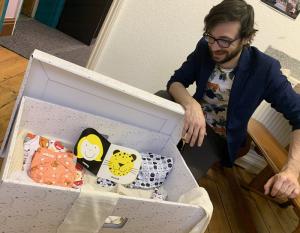 We were pleased to see mention of nappies and sanitary products in the strategy…
"Provide access to advice to citizens on what they can do to reduce waste in their homes, including cutting down on food waste, home composting, using re-usable nappies and sanitary products, using more refillable products and passing on unwanted items for a second life."
And… 
"Invest in handling, sorting and reprocessing infrastructure in order to address priority materials – including absorbent hygiene products, small electronic equipment, wood, plastics, textiles, mattresses, carpets and cartons." 
One thing my colleague Becky Harford has been working on is to persuade the Welsh Government to introduce a Sustainable Baby Bundle in Wales. We know Mark Drakeford, Julie Morgan and other government ministers are keen to see a Welsh Baby Bundle being introduced and we think this is a perfect opportunity to do things slightly differently and go for another world first and make it a sustainable one. Products could be sourced in Wales, these products could be plastic-free and, crucially, it could include reusable nappies. 
We know that non reusable nappies make up around 10% of all black bag waste on average at the moment and a behaviour shift will be needed to encourage parents back to using reusable nappies. Reusable nappies, especially if they are included in a sustainable baby bundle, would save families hundreds of pounds, reduce waste, reduce plastic-use, reduce climate emissions and, if local nappy laundering schemes were helped to set up, would create new local jobs all around Wales. This type of initiative would also tie in nicely with town centre regeneration plans in Wales.  
If we are looking to actually reduce resource use as well as dealing more efficiently with 'waste' then what better opportunity will we have on nappies than with the introduction of the baby bundle?  
Eco Labelling 
It was interesting to see that better labelling has been included in the strategy…
"Improve the information available to consumers, through, for example, improved labelling, to enable people to make clear choices to support more recycled and sustainable products."
This is a very important addition to action on waste and more sustainable consumption generally. 
While probably slightly different to the measures currently being thought about, one thing we would like to see is the development of a Welsh eco or carbon food labelling standard.  
If we buy a washing machine or fridge, it comes with an energy efficiency rating, so why not food? 
To help the Welsh economy, food production and consumption should be kept as local as possible and there should be a strong emphasis on this in all public sector procurement. A new voluntary Welsh food eco-label scheme, developed with farmers, producers and civil society groups, could support this by allowing consumers to compare carbon emissions of the produce that they buy and therefore support more locally produced food. The long-distance international import and export of foods that can be grown in Wales makes no sense environmentally and is not resilient to international supply-chain breakages.  
Carbon Trust research in 2019 found that two-thirds of consumers support the idea of a recognisable carbon label to demonstrate that products have been made with a commitment to measuring and reducing their carbon footprint. 
Construction and timber 
Another very positive development and something that may not garner some of the headlines that other measures such as single use plastic bans might, is a focus on timber use, re-use and the purchasing of resource efficient products.  
"Review the infrastructure we need against the likely future trends in the quantities and types of waste generated, and by strategically reviewing the necessary flows and supply chains of key materials such as wood needed to support the transition to a circular and low carbon economy" 
And… 
"Prioritise the purchasing of resource efficient products with a low carbon footprint. We will use less virgin material and prioritise the use of, for example, wood and high recycled content as well as prioritising re-used and remanufactured items in the goods the public sector purchases."   
At a community level, more wood re-use and upcycled Welsh-made products will help us support local jobs, create new ones and help reduce timber use. 
There is of course another dimension here too in that the use of timber cuts across housing and construction too. Cement has a massive carbon footprint. We know that. Can we reduce its use in Wales? 
If we moved housing construction for example to a timber-first model and then sourced as much of this timber in Wales as possible, not only would we be reducing the amount of cement we use and thus reducing its climate impact, but we could tie this in with various tree planting, forestry and public sector procurement strategies.  
The Solcer House in Bridgend is a great example of what is possible in terms of building ultra low emission, energy positive affordable housing. We could support this at scale by the creation of off-site modular construction housing methods which would also help sustain and create new jobs in Wales.