10,000 voices call for bold climate action
Published: 26 Oct 2021
On Tuesday 19 October, we joined Climate Cymru, Stop Climate Chaos Cymru and other organisations to present over 10,000 voices demanding urgent action on climate change to the Welsh Government.
On the Senedd steps we stand, mesmerised by an enormous heart, carved from ice, standing one metre all, encased in its own ice plinth, smooth and glassy as a mirror.
The heart represents 10,000 voices, gathered from all over Wales, and from all walks of life, who all want the same thing – for their leaders to take urgent action to protect what they love from the climate and nature emergencies.
It didn't arrive in one piece. It was carried, painstakingly, piece by piece, up the Senedd steps. We watched the heart take shape before our eyes. Even before the final piece of the heart was slotted into place, it had started to melt.
A signal, a warning, not lost on anyone. It was unseasonably warm for October.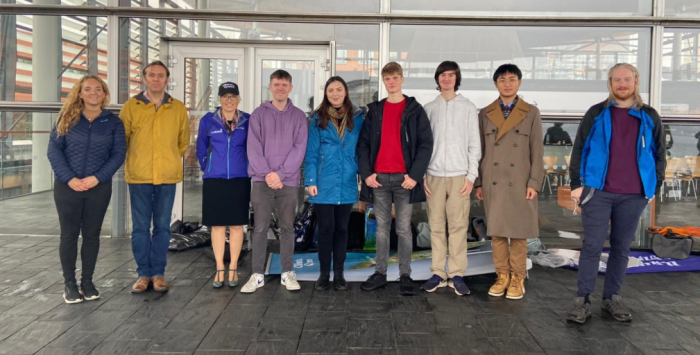 By the time I arrived, water was pooling at the bottom of the sculpture and trickling down the steps. 
It's not time yet, but the ice heart is already attracting the attention of many Senedd members who gather round for photos. Standing near it, you feel its glow of coldness. By the evening, the heart will be lit by a blue light, and people's talking faces will emanate from its shiny surface. A group of runners from Grangetown will huddle round it, silhouetted in the darkness.
Mari McNeil, Chair of Stop Climate Chaos Cymru, introduces Sam Ward from Climate Cymru, who talks about the campaign to collect voices to take to COP.
'Be bold, show leadership, ' he says. 'Push for concrete, timely action, inspire, and galvanise others on the world stage. There is a groundswell of public opinion behind you, who want real change.'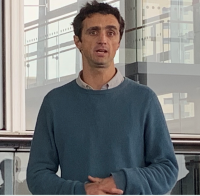 He moves on to the ice heart to his right. 'This beautiful ice sculpture symbolises the love we feel for our fragile planet. Our window of opportunity to protect the things we love is also fleeting and impermanent.'
Ten people, chosen to represent the voices, speak a few sentences in turn. They include three young people. The voices talk about many things: climate justice, clean energy, the circular economy, sustainable transport. It's a long list.
One of the last voices is our own Haf Elgar, Director of Friends of the Earth Cymru:
"People and nature are already feeling the devastating impacts of climate change – whether it's floods, heatwaves, air pollution or wildfires. But it's our poorest and most vulnerable communities, in Wales and around the world, who are suffering the most. We have a responsibility to take bold climate action for a fair future."
We know the solutions. Now we need to treat the climate and nature emergencies like a real emergency.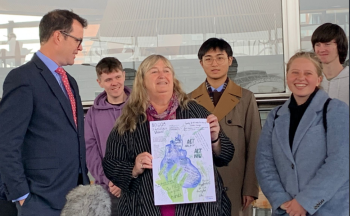 A young Climate Cymru volunteer called Megan, hands an artwork, depicting the voices, to Julie James MS, Climate Change Minister.  Deputy Climate Change Minister, Lee Waters MS, says a few words.
'We followed the science on COVID', he says. 'Now we need to follow the science on climate change.'
Janet Finch-Saunders MS, Welsh Conservative spokesperson on the Environment, speaks about the importance of having a clean air act and biodiversity targets. She then turns round to address the voices. 'Your voices will not be ignored.'
Plaid Cymru MS Llyr Gruffydd, Chair of the Senedd Climate Change, Environment, and Infrastructure Committee, gives the final speech.
His words rouse the audience. 'This melting heart symbolises the limited amount of time we have to deal with climate breakdown. I will be doing my utmost to get the message across that the people of Wales not only want the Welsh and UK governments to do more, but need them to do it faster. We're past the point where tinkering around the edges can make a difference; it's time for ambitious commitments and most importantly, the political will to follow through on them."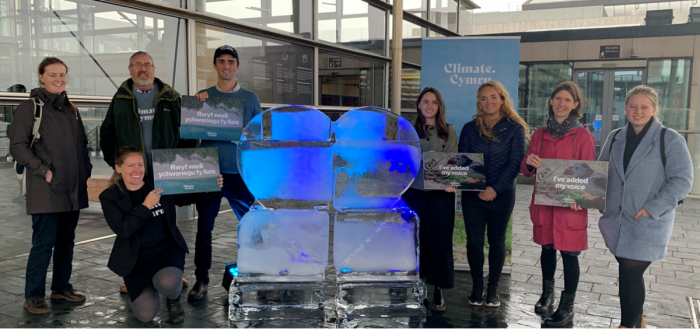 As Mari from Stop Climate Chaos Cymru puts it, "the voices collected by Climate Cymru demonstrate there is real public support for bold climate action here in Wales. 
"Let's not waste this crucial opportunity to take action and protect what we love.
"There are so many things at stake - our lives and livelihoods here in Wales, the future of the rich biodiversity of this fragile planet and the future of those most affected by the climate emergency in the world's poorest countries who are doing least to cause it.
"Next week Welsh Government will publish their Net Zero plan. We urge the Welsh Government to listen to these voices and publish a plan in line with climate science and the principles of justice and responsibility."