Move away from gas central heating
Published: 18 Nov 2021
15% of the UK's planet-warming gases come from heating our homes.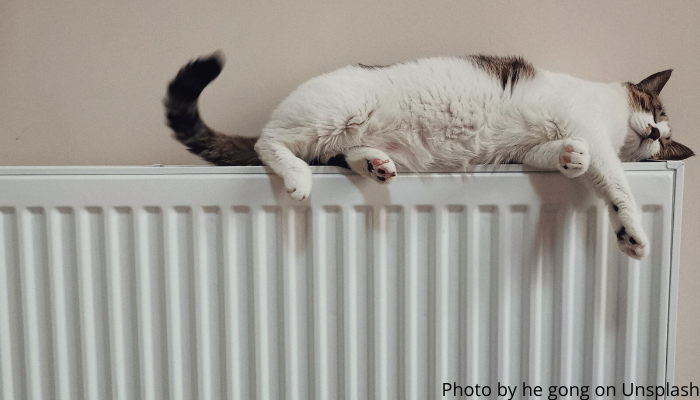 The carbon footprint from heating our homes is far from insignificant. A typical Victorian mid-terrace house will use around 12,000kWh of energy for space heating and 2,500kWh for hot water every year. This is even with a well-insulated loft and a modern gas-fired boiler. This will produce around 2.75 tonnes of greenhouse gases, which is the same carbon footprint as driving 11,770 miles a year in an average car, or flying 11 round trips to and from Rome. 
The UK Committee on Climate Change has stated that the UK's 29 million existing homes and all commercial and public buildings, will need to switch away from fossil-fuelled boilers towards low-carbon heating sources. 
The UK government has indicated that gas boilers are set to be replaced by low-carbon heating systems in all new homes built after 2025.   
So what does the future of home heating look like in Wales and the rest of the UK? 
If you are wondering what the different solutions are for our homes, have a look at this fascinating blog from Mike Childs, Head of Science, Policy and Research at Friends of the Earth where he reviews the pros and cons of everything from storage heaters to biomass boilers to heat pumps and more.
Home electricity and heat storage 
As the world moves away from fossil fuels to using more renewables, storing this energy at home or in our work places (distributed energy storage) will play an increasingly important role.  
There are different technologies currently on the market or in development, but they are quite expensive. The Energy Saving Trust have a useful guide to the technologies and things to consider. 
Greenmatch, Naked Solar and Which all have some good information you might like to check out if you are thinking about these options.  
An interesting new development in storage solutions is vehicle to grid (V2G) technology. 
Air source heat pumps
Air source heat pumps (ASHPs) absorb heat from the outside air to heat your home and hot water. They can still extract heat when air temperatures are as low as -15°C. 
Even ice still has some heat energy! 
There are two main types of ASHPs: air-to-water and air-to-heat.
You may be eligible for the Renewable Heat Incentive (RHI), a UK government scheme that provides payments to homeowners who generate their own heat.
Ground source heat pumps
Ground source heat pumps (GSHPs) use pipes that are buried in the garden to extract heat from the ground. At a depth of around 2metres the temperature is a relatively steady 11-12 degrees Celsius. This heat can then be used to heat radiators, underfloor or warm air heating systems and hot water in your home.  
There are two different types of loop systems for ground source heat pumps, the open loop system and the closed loop system. 
They might also be eligible for the RHI. 
Solar water heating
Solar water heating (or solar thermal) uses sunlight to directly heat water for use in homes.  
Even in Wales, solar water heating can supply around 50-60% of an average homes domestic hot water demand with this rising to 80-90% in the summer months. By doing this, these systems can save money and climate emissions. They can also qualify for the RHI. 
Project Drawdown estimates that: 
If solar water heating grows from 8 percent of the addressable market in 2018 to 15-30 percent, the technology can deliver emissions reductions of 3.6-14.3 gigatons of carbon dioxide.