Two Friends of the Earth groups win award
Published: 8 Sep 2021
Two Wales Friends of the Earth groups have won People's Postcode Lottery Earthmovers Award for environmental activism.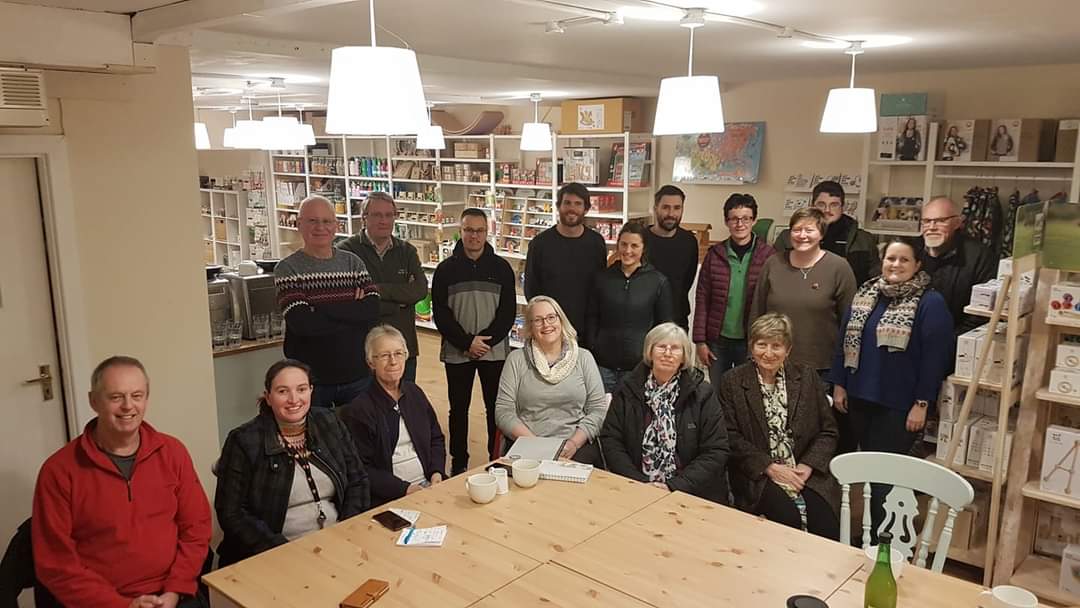 Organised by Friends of the Earth and supported by the players of People's Postcode lottery, Earthmovers Awards recognise the inspiring work of local environmental groups in their communities
Torfaen
Torfaen, one of the oldest Friends of the Earth groups in Wales, wins a national award for their successful campaigning on a wide range of issues over the past thirty years  
Torfaen Friends of the Earth began life in 1996 as the 'Fight the Plan' group to prevent a massive new housing estate being built on green fields in South Sebastopol near Pontypool. In 2001 it became a Friends of the Earth group led by Mike Jacob, late husband of the current co-ordinator, Carole.
They are one of the oldest Friends of the Earth groups in Wales and have now won an Earthmovers Award. The award, which is supported by players of the People's Postcode Lottery, recognises its inspiring campaigns spanning a wide range of issues over the past quarter of a century. 
As well as opposing the South Sebastopol development for 20 years, the group has spearheaded environmental justice issues, bee-friendly and clean air campaigns, and raised and supported many petitions over the years including two on South Sebastopol and a local one for banning the use of glyphosate.
For decades, the group has played an active role in their local community. For instance, they have had stalls at numerous community events, arranged their own film events on several topics such as bees, pesticides and divestment, and worked with Torfaen Council's air quality control team to monitor air pollution locally. They have also conducted school visits to help teach children learn about bees. They are currently working as stakeholders in consultation for the new Local Development Plan for 2021 and are regarded as experts locally on planning issues, helping residents, and speaking at planning meetings on their behalf. 
In the past, Torfaen Friends of the Earth have also campaigned successfully against fracking, and alongside other activists and residents, they were instrumental in getting Torfaen Council to vote to become a frack-free area. They have also campaigned on divestment, raising it with the Church in Wales locally as well as pressuring their Local Authority Pension Fund to take its money out of fossil fuel companies and campaigned hard over many years against the M4 Relief Road.
Carole Jacob, Co-ordinator of Torfaen Friends of the Earth, said: 

"We're delighted to receive this award for what Torfaen Friends of the Earth has achieved over the years. We believe passionately in what we do, and this has kept us going for the past three decades.  Of course, we couldn't have done it without the support of many local people living here in Torfaen, so I would like to take this opportunity to thank everyone in our local community who helped us." 
Ruthin
Ruthin Friends of the Earth wins the ward for their positive and far-reaching impact on their community, achieved over a short timescale 
Ruthin Friends of the Earth, a relative newcomer compared to Torfaen, has won the award for their positive and far-reaching impact on their community, achieved over short timescale. Since the group started in 2019, they already have an impressive track record, having started a repair café in the town, organised litter picks, and helping the town get plastic-free status with Surfers Against Sewage.
Ruthin Friends of the Earth works with and alongside a wide range of groups and social enterprises, such as Drosi, renovating and electrifying bikes, and Incredible Edible, tending planters in prominent locations in the Town and a Community Allotment in collaboration with Denbighshire Voluntary Services Council.
Ruthin FoE is also involved with ReSource, upcycling materials that would otherwise have gone to landfill, including remaking plastics; they have an inclusive ethos and offer training to volunteers of all abilities.  This Autumn apple harvesting for a local juicing co-operative will expand volunteering and collaboration opportunities.  Three events are planned in the run-up to COP 26 to increase public awareness and attract more volunteers to support Friends of the Earth Ruthin's diverse projects.