No more coal - from Carmarthenshire or anywhere
Published: 10 Jan 2020
The world is facing climate breakdown, and a nature crisis. Carmarthenshire County Council must do the right thing and reject the Glan Lash mine proposal.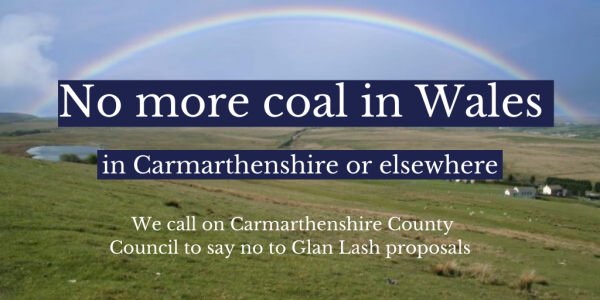 Do you live
in
Carmarthenshire
?
If so
, please help us stop this damaging plan
to extend
Glan Lash
open cast mine
.
Let's t
ell Carmarthenshire Council to keep dirty coal in the ground
– take our online action now
http://bit.ly/stopglanlash
Friends of the Earth have submitted an objection to the proposals for 110,000 extra tonnes of coal to be extracted from Glan Lash opencast coal mine in Llandybie near Ammanford, and call on Carmarthenshire County Council to reject the application and continue planning towards a positive net zero future for the area.
Responding to the proposal, Director of Friends of the Earth Cymru, Haf Elgar, said:
"It's incredible that, given the climate emergency we're in, plans have been submitted for extracting more coal in Carmarthenshire. Even if, as is claimed, much of the coal won't be for fuel that still leaves tens of thousands of tonnes of coal that will be burned – that's tens of thousands too many. Carmarthenshire County Council must do the right thing and throw these plans out.
"Planning Policy Wales, published just over a years ago, makes it clear that proposals for opencast should not be permitted.
"Giving the go ahead to the Glan Lash mine proposals would be completely incompatible with both Wales' ambition to become net zero and Carmarthenshire County Council's declaration of a climate emergency
"These opencast mining proposals would lead to climate damaging emissions and could threaten wildlife in the area, destroying trees and habitats. It would also create noise and dust pollution for local residents.
"There is no doubt whatsoever that we're in a climate and an ecological emergency – the fires in Australia and floods in Indonesia right now are just a few examples of the devastating effects of climate change and extreme weather. We cannot afford to extract more coal from our land – in Wales or anywhere else.
"The age of coal is over. There are plenty of renewable energy alternatives, including community energy which can bring employment in local communities across Wales as well as a clean source of energy."