How much more inclusive is cycling now?
Published: 7 Sep 2021
Sam Farnfield, Senior Officer for Cardiff charity, Pedal Power, looks at 'inclusive cycling', and how much closer we are to making the term a reality in Wales.
Returning to those activities we love the most finally seems to be on the horizon. We'll cross our fingers.
What has the last year and many months of lockdown shown us in the inclusive cycling world? Here is my perspective from working at Pedal Power, an inclusive cycling charity in Cardiff.
It's great to see that so many more people are cycling around our villages, towns, and cities, and, for most of us, it's probably easier to cycle than ever before.
'Cycling can and should be for everyone'
But has cycling really become more inclusive post-lockdown? Because, as we take steps to make our country more cyclist friendly, it's important to remember that cycling can and should be for everyone.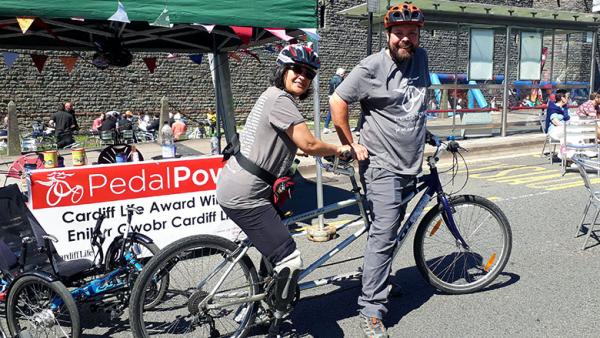 What is inclusive cycling?
You may have heard the term 'inclusive cycling' but what does it mean exactly? Well, it's when as many people as possible are given the support and opportunity to cycle - all ages, all abilities. In practice, it is providing the right conditions through support, knowledge, expertise, specialist equipment and loads of time and smiles to help people meet their cycling ambitions.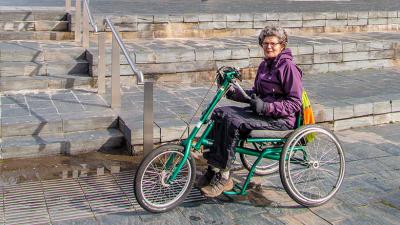 If you never learned to cycle or, as an adult, lack confidence due to a bad cycling experience, then you may need help and support to get on a bike. If a child with autism would love to learn to ride a two-wheel bike, then specialist knowledge and time can make that happen.
For those with learning difficulties, a trike might be the best option while side-by-side trikes are especially suited to someone living with dementia, who could have support and conversation at their own pace.
If you are recovering from stroke, a recumbent trike might need to be adapted to suit your needs. For instance, a supportive pedal and leg support on one side will help you feel comfortable while on the other side all your brakes and gear controls have been fitted to aid a rider with a one-sided weakness.
If you are in a wheelchair, it can loaded onto a front-loading cargo trike so your friend, carer or family member can take you for a relaxing spin around the park.
The list is very, very long, but I hope this gets you thinking about inclusive cycling. 
In the past year we've seen a big increase in the number of people cycling on two wheels. Lots of people who previously didn't cycle or who hadn't cycled for a long time decided to go for a spin. 
My guess is many people discovered or re-discovered the many benefits of cycling – it's a great way to keep fit and is good for your mental wellbeing as well as your physical health. 
Improving infrastructure
We also saw infrastructure literally popping up around towns and cities, certainly here in Cardiff. Cyclists can now bike their way across the city via a network of new cycle lanes that criss-cross the city like arteries. In some cases, there are new sets of lights especially for cyclists and, on occasion, wonderfully smooth wide tarmac paths.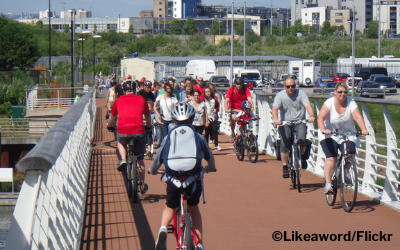 It's early days but these new routes are making cycling more accessible, giving cyclists safe and secure options to make more journeys - journeys which they previously could not make.
But a route which is 98% accessible might sound pretty good but for a disabled cyclist that just means it is 0% accessible and, therefore, of no use.
Imagine you are recovering from a stroke, and ride a recumbent trike, which gives you freedom and autonomy and you rely on it to build your strength, get you out of the house, and keep you mobile. Dismounting a trike unaided may be quite difficult for you, so you could be riding with your partner or friend and have a 2-metre-long trike to contend with.
Routes which narrow below a metre, or which have tight chicanes or "a-frames" are not trike friendly. Neither is a route which spits you onto an A road without giving you a space to turn or stop and pull over. So, in this rider's shoes, would you choose a route that your cycle cannot fit through, especially if you would be unable to turn back at a pinch point? No. Infrastructure should be user friendly, not frustrate or embarrass its users.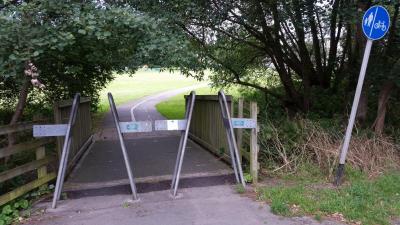 Now imagine you are a wheelchair user, and you cross the road at the lights. You use the drop kerb and follow the painted lines but when you get to the other side there is no drop kerb and you are now essentially stranded in the road, forced to find a way to safely turn back. Fortunately, this is less likely to happen these days.
But the message is clear – an accessible route is 100% accessible or it is not accessible at all. Fact.
'Plan for an inclusive cycling future'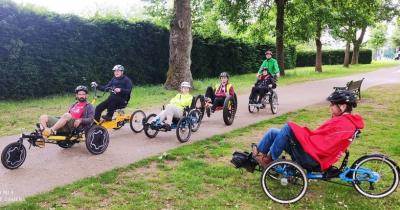 Infrastructure is improving for all cyclists and that is a good thing, but we should plan for an inclusive cycling future where more trikes, hand-bikes and tandems are seen on Britain's streets.
There are several reasons why you don't see many trikes, tandems and adapted cycles riding the streets of Britain. 
First, these trikes are expensive, and often they are not VAT deductible as a mobility aid, even if you are registered disabled. Trikes can be purchased through some cycle-to-work schemes, but many people with long term physical or mental health conditions are not in work.
And even if you have the money to buy a trike, you will need the space to store it. You can't haul one up a flight of stairs to your flat or leave it outside chained to a lamp post! The most likely reason you are riding one of these cycles is reduced mobility, but to become more mobile you must use a cycle that is bulkier and generally more cumbersome than your average two-wheel bike. 
'Hiring trikes should be easier'
You can hire a trike at Pedal Power and really every British city should have an option to hire or borrow one, but unfortunately they don't. Of course, there are centres around Britain but not in every town or city.
During lockdown, Pedal Power, like many organisations responsible for supporting vulnerable people, closed its doors due to safety concerns. Because of this, our service users couldn't do any inclusive cycling for a long time, missing out on opportunities to exercise, socialise and to be part of a friendly and supportive community.
Now, we are open 6 days a week, offering cycling to all again. Our cycle training and learn to ride and confidence building sessions are back up and running, and our workshop is repairing cycles and building new trikes. Also, our accessible cafe, which closed back in March 2020, will soon reopen!
I've got a feeling that inclusive cycling will become increasingly popular over the next year. Pedal Power has projects starting up again that will enable new and returning cyclists to enjoy all the benefits of cycling. We are looking at getting more e-cycles ridden in Cardiff to showcase the benefits of inclusive cycling far and wide.
There are lots of exciting things happening at Pedal Power this summer so check us out. Follow us on the usual social media platforms to get a feel of inclusive cycling, find your local charity or organisation and perhaps volunteer or just share a tweet or chat about the possibilities out there to friends and family. Pedal Power are always happy to help, answer questions and share; this really is the route to more people getting riding and understanding that cycling is not just two wheels.