Cardiff looking for a greener healthier way ahead
Published: 18 Apr 2023
Friends of the Earth Cymru react to the news that Cardiff Council is considering charging drivers to use roads in the Welsh capital.
Cardiff Council announced yesterday (17 April 2023) that to achieve its vision for a carbon neutral Cardiff, it is proposing a system of road charging in the capital.
Tough decisions have to be taken, it said, to improve public health, improve air quality, improve public transport, boost the economy, and reduce congestion.
The council is keen to reassure drivers that public transport must be improved (such as £1 bus fares on key routes) before introducing any charges.
It has not provided any details of the cost or the area in which the charge could apply.
Haf Elgar, Director of Friends of the Earth Cymru,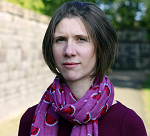 "It's great to see Cardiff Council is prepared to be ambitious and brave in order to solve the city's air quality and transport problems.
"Every day people are breathing in dangerous air in a congested city that is wrecking our planet and our health.
"Cardiff is right to explore road pricing in a fair and just way. Better active travel opportunities and vastly improved public transport must go hand in hand with this."