By Eleni Morus
Communications Volunteer
Friends of the Earth Cymru
Environmental volunteering can have its perks! Last month (October 2019), I was on the red carpet in Cardiff chatting to Welsh stars about sustainable fashion.
Friends of the Earth Cymru and Sustainable Fashion Wales had set Bafta attendees the challenge of wearing sustainable outfits on the red carpet to draw attention to the importance of more sustainable practices in fashion.
It is the first campaign of its type in Wales, taking inspiration from Red Carpet Green Dress in California, which encourages red carpet attendees become advocates for sustainability within the industry through their fashion choices.
Michael Sheen showed his support
From the start of our campaign, Welsh actor Michael Sheen showed his support by urging fellow attendees to take up the challenge on Twitter. Over that time there was a period of tweeting, emailing and messaging to build awareness of the challenge and when the evening came we were full of anticipation to find out how many people would take part.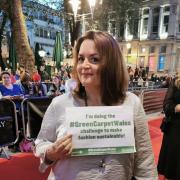 Ruth Jones: "I don't believe in buying new items for awards like these"
A number of Welsh celebrities supported the challenge, including Jodie Whittaker, the first female Doctor Who, and Ruth Jones from Gavin & Stacey. Both actesses wore reused outfits, shoes and accessories, shunning the only wear once label, Jones saying that "I don't believe in buying new items for awards like these".
There was a wonderful and diverse range of clothes from attendees including Huw Stephens and best-actor winner Celyn Jones and his wife; there were charity shop kilts and vintage gowns, well-loved shoes and second-hand suits, all of them good examples of sustainable fashion choices.
The fashion industry is responsible for 10% of global emissions
Given that the fashion industry, with its huge supply chains is responsible for 10% of global emissions, it is imperative that the industry in Wales becomes more sustainable. The fashion industry is having a negative impact on the environment, largely because of 'fast fashion'. This current trend of buying cheap clothes that don't survive long before being thrown away is creating waste for landfill and wasting the energy and resources used to make them. Reusing clothes or buying second-hand or vintage means that you aren't buying into this system.
What makes an outfit sustainable?
When we asked Bafta attendees whether they were wearing anything sustainable, many were unable to answer this question.
Are you wearing anything vintage, second-hand or have you worn the outfit before?' is a much easier question to answer, and is a good place to start.
For many of us, being sustainable will be wearing the same clothes again and again and taking the time to get them repaired when they start falling apart.
While there are new designers working with recycled materials, and with sustainable materials like hemp and bamboo, they are not always accessible and affordable, whereas you can find an array of charity, second-hand and vintage shops in any town or city. This was the take-home message of this year's BAFTAs for us.
Even after the event photos flowed in from attendees who had taken up the challenge but hadn't been able to speak to us on the evening. It was uplifting to see the number of people who took up the challenge, for us this suggests that attitudes are starting to change, at least in the Welsh capital.