Charities urge First Minister to speed up clean air bill
Published: 16 Jun 2021
Healthy Air Cymru has written to First Minister Mark Drakeford ahead of Clean Air Day, urging him to prioritise clean air legislation and introduce ambitious air quality targets.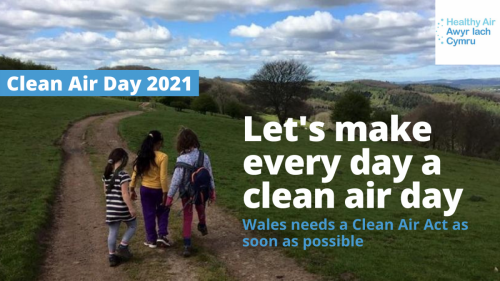 The coalition of charities and organisations welcomed the publication of the White Paper on a Clean Air (Wales) Bill in January, but criticise the current timetable as being 'far too slow'.
In his first speech to the Senedd, and in media interviews shortly after the election, Mark Drakeford identified clean air legislation as an area on which all four parties in the Senedd could work together.
At the election, Welsh Labour, Welsh Conservatives, the Welsh Liberal Democrats, and Plaid Cymru all signed up to Healthy Air Cymru's call to deliver a Clean Air Act. However, the coalition's call for it to be brought forward within the first 100 days now looks unlikely to happen.
As a result,
Healthy Air Cymru is calling for the Welsh Government to put forward a roadmap for the Clean Air (Wales) Bill and set a date in this first parliamentary year for when it will be introduced to the Senedd.
Joseph Carter, Chair of Healthy Air Cymru and Head of Asthma UK & the British Lung Foundation Wales, said:
"Air Pollution seriously damages our lungs and is putting our health at risk. This silent killer is in the air we breathe on the way to work, school, and as we go about our day – in levels far above World Health Organisation limits.
"Air pollution is also bad for our planet. The rise in climate-changing emissions is impacting nature and communities in Wales across the world.
"To save lives, and protect our health and the environment, we must ensure a Clean Air Act is included in the first legislative statement.That is why we've written to Mark Drakeford and his Ministers, urging them to do just that.
"If we proceed at the current pace, it could be as late as 2024 before any legislation is passed and another term before regulations come into effect."
The group, which also includes Friends of the Earth Cymru, Sustrans Cymru, Living Streets and Ramblers Cymru, coordinates the Cross Party Group (CPG) for a Clean Air Act.
Huw Irranca-Davies MS, Chair of the Senedd Cross Party Working Group on a Clean Air Act, said:
"It's great to see strong cross-party support to get that early road-map for legislation, especially as the White Paper on the Clean Air legislation has already been out for consultation and Welsh Government has committed to take this forward.
"Speedy action on ambitious legislation will save lives, create healthier local communities and bring environmental gains for this and future generations. Welsh Government will have strong support across Wales if it sets out the roadmap and a rapid timescale for change."
According to Public Health Wales, air pollution contributes to between 1000-1400 deaths a year in Wales5. A robust Clean Air Act for Wales will help save lives and safeguard future generations. With a white paper on this already out for public consultation, the group is calling for swift action post-election to make this new legislation a reality.
Derek Cummings, who has COPD and is Chair of the 'Breathe Easy' support group in Rhondda-Cynon-Taf, added:
"Air pollution really affects people like me, who are living with serious lung conditions. It makes it harder to breathe and limits what I am able to do in my day-to-day life.
"The Welsh Government needs to step up their efforts to reduce air pollution and keep people from developing major conditions later in life.
"A key part of this will be bringing in new rules around wood burning, which is one of the biggest sources of pollution, and developing better, greener public transport links."