Charging road users will clean Cardiff's air
Published: 14 Jan 2020
Cardiff Friends of the Earth and Friends of the Earth Cymru welcome plans to explore road user pricing throughout the city, as set out in Cardiff Council's newly-published transport white paper.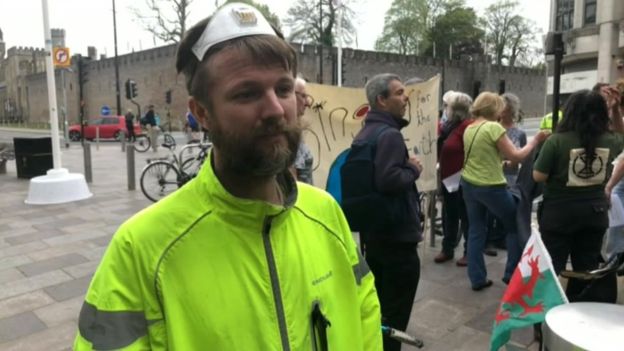 Sion Elis Williams from Cardiff Friends of the Earth (photo credit: BBC)
The 'Transport Vision to 2030 - Changing how we move around a growing city' white paper suggests that introducing road user pricing in 2024 could help fund a £2bn transformation of Cardiff's transport system. Cardiff Council aims to increase the proportion of travel to work journeys in Cardiff taken by bus, rail and tram from 17% today to 34% in 2030.
Cardiff Friends of the Earth also backs several complementary measures proposed by the paper, from integrated ticketing to a commitment to reduce all bus fares across the city with the aim of introducing £1 journeys.
Cardiff's air pollution levels are among the worst in the UK. A Birmingham University study revealed that Cardiff is one of the top five most polluted UK cities relative to its size, traffic and population. The city is expected to grow by a further 50,000 people over the next decade, putting pressure on councillors to develop solutions to reduce gridlock and pollution.
Siôn Elis Williams, Cardiff Friends of the Earth's #LetCardiffBreathe Campaign Lead, said:
"This white paper recognises that the twin crises of a climate emergency and toxic air pollution demand ambitious action. Road User Pricing is based on the "polluter pays" principle, and adopting this would be a bold step towards tackling the environmental injustices that disproportionately damage the lives of those Cardiffians who pollute least.
"We wholeheartedly support proposals to increase active travel, improve public transport and reduce the need to own private cars but we're keen to see consideration of Road User Pricing within the city and city-wide, and urge the council to implement this as soon as possible.
"We look forward to more detail and firmer commitments on regional proposals - such as rapid bus links and the rollout of hire bikes - that we hope will enable affordable, sustainable options for everyone who needs to travel in Cardiff. We'd also encourage Cardiff Capital Region to take a more strategic approach to reduce the need to travel by increasing opportunities and amenities more evenly across all of South East Wales."
Cardiff Friends of the Earth is a local campaign group of volunteers working with Friends of the Earth Cymru on local, regional and national environmental campaigns to create a safer climate, flourishing nature, and healthy air, food and water. The group aims to accelerate and enable the comprehensive clean up of Cardiff's dangerous air pollution in the fairest, fastest and most sustainable way possible, and to improve the local environment in Cardiff.
Friends of the Earth Cymru, a member of the coalition Healthy Air Cymru, also welcomes the long term commitment to improving air quality and reducing climate damaging emissions. Read the full Healthy Air Cymru response here.