United for Warm Homes Day of Action - resource for groups
On Saturday 18 November 2023, community groups and local partners across England and Wales will be taking part in a Day of Action, calling for lower energy bills and warm homes for all.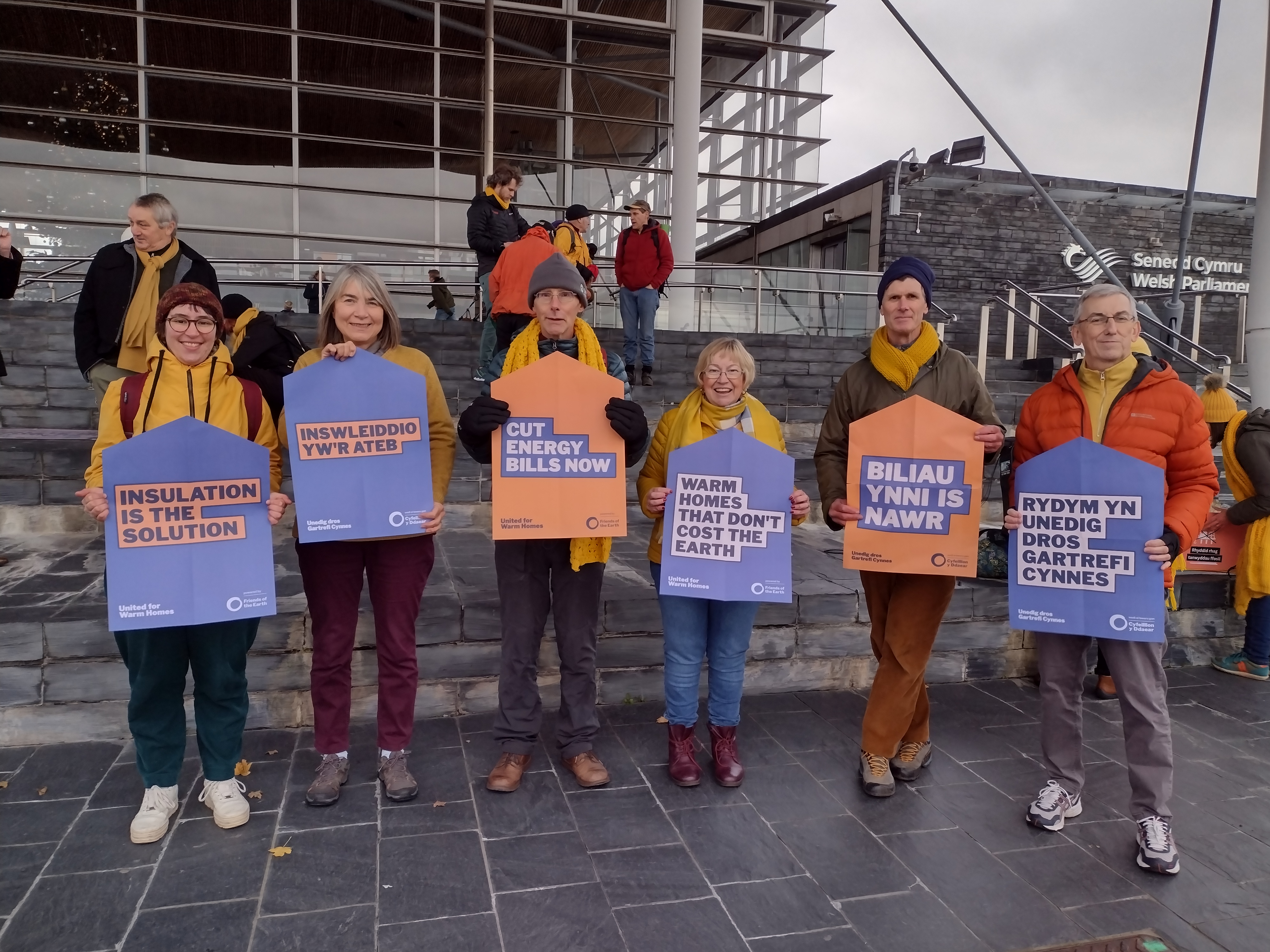 Remember the Warm this Winter Day of Action last year? Some of us gathered on the steps of the Senedd last November to call for urgent action on warm homes.
This year, the focus is on MPs rather than Senedd Members - we're encouraging Friends of the Earth local action groups in Wales to write an email to their Member of Parliament or meet up with them for a photo stunt that can be shared on social media.

Previously the Warm Homes campaign in Wales focused on Welsh Government and the Senedd. Working closely with Climate Cymru (who leads the Warm this Winter campaign in Wales), we organised a petition to Welsh Government and many Senedd Members took a pledge to keep people warm this winter, and in winters to come.
In the lead up to Julie James' announcement on the Warm Homes programme, the aim was to exert pressure at the right time to ensure it was ambitious enough. And it worked - read this story to find out more!
As far as fuel poverty and energy efficiency is concerned, the Welsh Government can do so much. That's why we've shifted our focus to the UK Government.
Politicians are already gearing up for the next general election, which must be held by January 2025, and could happen earlier.
What can groups do?
If you are a member of a Friends of the Earth local action group in Wales, and would like to get involved, here are some steps you can take:
Support the campaign on social media - why not download the

social media toolkit

?


 

Email your MP to ask them to publicly support the campaign

. Use this template email to tell them about what we're calling for.

Arrange for a photo with your MP outside their office and share on social media - order posters and placards to use in your photo here (please note we require two weeks' notice to pack and dispatch your orders.)

 

If you have enough time, and feel like getting crafty, why not organise an event or a 

community quilt

? You could even write to a newspaper editor, using this

template

.
For more information, check out this website
And please don't worry if your group hasn't organised a petition to your MP, and isn't able to organise a Day of Action event or a community quilt. As you will see from the above, there are lots of other things your group can do, even if that's just emailing your MP and/or supporting the campaign on social media!