The Senedd Election on May 6 is fast approaching. We need to make sure as many candidates as possible take our Climate Action Pledge to prioritise the climate if they are elected.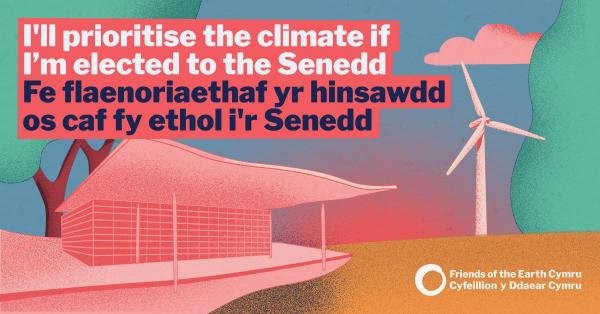 There are lots of things Friends of the Earth groups and Climate Action groups can do.
For more information please visit: Five things groups can do.
Here are some
FREE
resources you can use...
1. Before meeting your candidates
2. When promoting your online

hustings
Have you arranged an online hustings? Great! We've created some digital assets to help you promote your event on social media.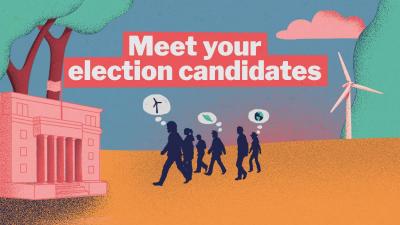 You can customise your own hustings image using this Canva template for Facebook and this one for Instagram.
All these digital assets are available in Welsh.
Please let us know if you've arranged a hustings and we can arrange to let supporters in your area know.
You can also email them the graphic yourself and ask them to print it out and take a photo of themselves holding the pledge.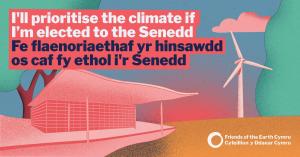 Customise a pledge poster in English or Welsh using a Canva template.
Download CANVA for free here.
Don't forget to share everything your candidate posts!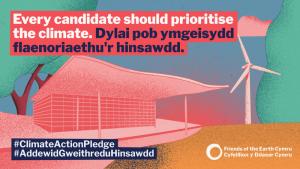 You can also download this generic asset.
4. When spreading the word about your campaign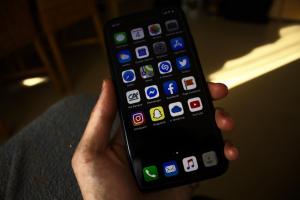 The more people that hear about your campaign the better.
Remember, when sharing news on social media, please remember to use the hashtags #TakeClimateAction and tag @foecymrucydd on Twitter.