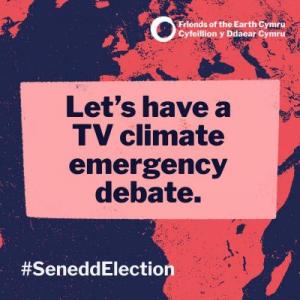 The Senedd elections are fast approaching, and public and political awareness of the need to act on climate change is at an all-time high.
Given the necessary COVID-19 restrictions there are fewer opportunities for open public debates during this election campaign, for example through community hustings and canvassing, which makes the role of broadcasters and provision of online and TV content all the more crucial.

Friends of the Earth Cymru would like to request that the main broadcasters organise a special televised climate emergency debate for the leaders of the main political parties in Wales.