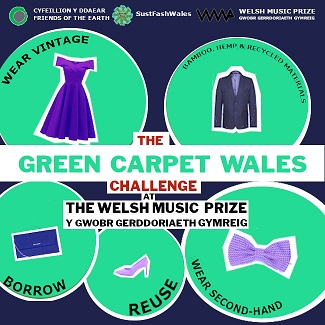 Responsible for 10% of the world's greenhouse gas emissions, the fashion industry is a major contributor to climate breakdown and the ecological emergency. The campaign shines a spotlight on the need for more sustainable practices in the fashion industry.

The band HMS Morris is the first 2019 WMP nominee to accept the #GreenCarpetsWales challenge to wear something they already own, a second-hand or borrowed outfit or a brand-new one made from sustainable materials, preferably designed, made and manufactured in Wales.
John Rostron, founder of the Welsh Music Prize, said:
'We're delighted for Welsh Music Prize to be part of the #GreenCarpetsWales challenge and are really looking forward to making more of an effort with our clothing choices by digging deep into some cool select second-hand cuts. Like good music we'll have clothes on repeat!'

Heledd Watkins from HMS Morris said:
"It's not hard to see that the fashion industry is broken and fast fashion is causing a lot of damage to the environment and workers' wellbeing. As a band we love to have fun with fashion on stage, we're dedicated to doing that without leaving a (bad) trace on the world.
"We'll only be buying pre-loved, vintage or sustainable eco-friendly fabrics from now on, not only because it leaves less of a trace but also because you can find unique exciting pieces you can't find on the high street, pieces with a bit of history, it's nice to wonder about the life your clothes had before they came into your life!
"We won't be buying anything new for the WMP or for the Christmas party season - it's quite likely we already have something great in the wardrobe. We're also musicians and we're broke."

Helen O'Sullivan from Sustainable Fashion Wales said:
"Since I was a child I have been fascinated by the strong link between fashion and music. The ability to express our individuality through what we wear and what we listen to continues to influence my own style. Throughout my life I have been inspired by various musicians from my life-long love of Jimi Hendrix's psychedelia, to the grunge glam of Courtney Love as a Generation X teenager. Music has always had an influence on fashion and vice versa.
"By joining forces with the Welsh Music Prize and the diverse range of talented nominees we hope to also shine a spotlight on the positives, by showcasing the environmentally and socially responsible side of fashion, while expressing individuality.
"2019 Bafta Cymru nominees Jodie Whittaker, Huw Stephens, Celyn Jones and Ruth Jones accepted our #GreenCarpetsWales challenge in October. Now we're calling on 2019 WMP nominees to follow suit by wearing outfits or even just accessories which are responsibly sourced.
"Nominees and attendees can wear something vintage, something second hand or something made by one of the incredible sustainable fashion designers from within Wales. We have tips on our website and a list of designer/makers that would be more than happy to help with the challenge."

Huw Stephens, Jodie Whittaker, Celyn Jones and Ruth Jones accepted the #GreenCarpetsWales challenge in October at the 2019 Bafta Cymru awards

Eleni Morus, Friends of the Earth Cymru spokesperson, said:
"The fashion industry has disastrous effects on the environment in a variety of ways. Emissions from vast global supply chains pollute our atmosphere. Countries where raw materials are sourced often suffer water scarcity due to water hungry crops and their rivers are polluted by textiles factories. Working in these factories is often dangerous, demeaning and exhausting and workers often need to retire around the age of 40 from ill health.
"Even when the clothes reach the destination country, plastic microfibers escape while being washed and enter our water systems and low-quality clothing unravels all too soon, causing £12.5 billion worth of clothes to landfill every year in the UK.
The #GreenCarpetsWales challenge is a way to rebel against what the fashion industry is currently doing to the planet. By wearing vintage, second, reused or sustainable clothes the Welsh Music Prize nominees are highlighting the need for change in the Welsh capital and beyond."
The event will be on the 27th of November at the Cardiff Coal Exchange.