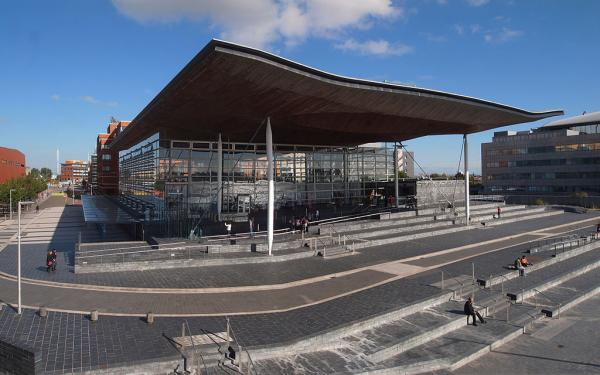 By Bleddyn Lake
Campaigns and Development Manager
Friends of the Earth Cymru
The Welsh Conservative manifesto Let's Build a Better Wales focuses on rebuilding from the pandemic, and in particular economic recovery. The manifesto is peppered with 'green' and environmental policies, but despite this the climate emergency is rarely mentioned and it certainly does not come across as a priority in the document.
However, their plan for recovery from the pandemic does commit to kickstart the economy and rebuild for a stronger, more equal and greener future, including at least 15,000 green jobs. And it is positive to see support for renewable energy central to their proposals, with the ambition of transforming the Welsh economy to be the global centre of the green economy. There is also reiterated commitment to making Wales net zero by 2050.
In their main section on the environment, entitled Building back greener, there are proposals to ban single use plastics and introduce a deposit return scheme, plant at least 8 million trees a year, encourage the public sector to Buy Welsh, a £20m Wales Wildlife Fund, and measures to reduce flood risk including preventing irresponsible development in flood risk areas.
It's also positive to see strong commitment to a Clean Air Act, and vouchers for home energy efficiency, with £10,000 for households on low incomes – both measures which have strong social as well as environmental benefits. On energy there's a commitment for an innovative new centre of excellence and research into energy storage and transportation, a £150 million marine energy investment fund and a tidal power feasibility study. On the flip side there is mention of making north Wales a UK hub for small Modular Reactors (nuclear reactors). Pressing ahead with a new generation of nuclear reactors, whatever their size, isn't something we should be thinking of.
There are also radical proposals on environmental governance - to scrap Natural Resources Wales and split responsibilities into two separate organisations: one commercial and the other regulatory. In addition, there's a proposal to set up an Independent Office for Environmental Protection and Climate Change in Wales to hold public bodies to account. There is certainly a governance gap left by Brexit which urgently needs to be filled, but it would be good to have more detail on how all these bodies would work together and what their powers would be.
But all these environmental policies would be undermined by the focus on road building, especially the three big damaging projects of the M4 relief road, the A55 red route and the A40 in Pembrokeshire. Yes there are proposals for electric car charging, and for rail infrastructure and a north Wales metro as well. The problem is that the overall investment in building new roads would far surpass the budgets for environmental action, and all other investment, and take us backwards from recent moves to enable people to use their cars less and access public transport and active travel options. This outdated approach is inconsistent with getting to a net zero Wales in terms of the environmental damage and increase in traffic.
Overall there are some good environmental policies in this document, especially on decarbonising our energy, but very little recognition of the climate emergency, and far from enough focus on climate action across the board. And the positive actions would be undermined by the road building schemes.