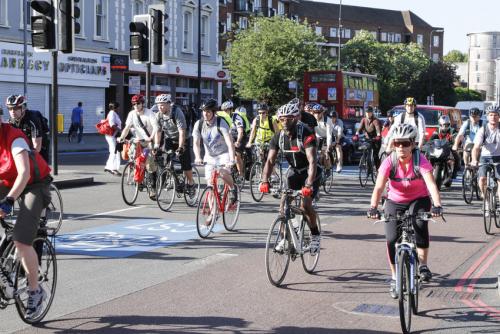 Friends of the Earth Cymru welcomes the Welsh Government's transport strategy, Llwybr Newydd, published today (19 March 2021).
This new transport strategy signals a fresh start and a new direction for transport policy in Wales.

Haf Elgar, Director of Friends of the Earth Cymru, said:
"The Transport Strategy, 'Llwybr Newydd', is a new opportunity to make our transport system fairer on people and communities throughout Wales, and on the planet.
"Using the Sustainable Transport Hierarchy to make decisions will mean that active travel like walking and cycling, and public transport, will get prioritised over damaging road infrastructure. We hope this will stop new climate-wrecking roads from being built.
"And setting a target to get people walking, cycling and taking public transport is a big step ahead. We would like to see the more ambitious target - doubling the proportion of these journeys made by 2030 - to drive both the scale and pace of this change, but we welcome a commitment to keep this under review.
"The transport sector has been responsible for a growing share of our emissions, and the climate emergency must be front and centre when decisions are being made from now on to reverse this situation and create better, greener, fairer ways for us all to travel."
The strategy has taken on board recommendations in the report published by Friends of the Earth Cymru last summer, and our consultation response, including:
Embedding the Sustainable Travel Hierarchy in making decisions about infrastructure, to prioritise active travel
A target for increasing travel by active travel and public transport
A framework for fair road user charging
Creating safe active travel corridors between towns and villages
Setting bus service standards across Wales
Introducing a policy for all new developments have provision for walking and cycling from the outset.