By Eleni Morus, Communications volunteer
Every year, we celebrate the successes of local groups through the Mike Jacob award. This year five groups were nominated for the award. Let's take a look at what each group has been up to over the past year, including the winners, Llangollen.
Over the past year our groups have been have been working on a wide range of local and national campaigns. For instance, they have been making their communities more bee friendly and less dependent on single use plastic, and they have been supporting local youth strikers. They have also been lobbying their councils and Assembly Members on many issues, like urging their AMs to support calls to ban fracking and to stop investing in fossil fuels - vital behind-the-scenes work which is often less visible.
Caerphilly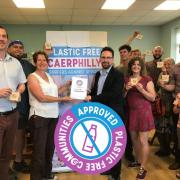 Caerphilly Friends of the Earth has had a busy but successful year. In July, following a year-long campaign spearheaded by local group members and local residents, the town of Caerphilly achieved plastic free status under the Surfers Against Sewage scheme.
The group also worked with other community groups and residents to protect an important local wildlife site called Gwern y Domen, successfully resisting the building of 600 new houses.
They also lobbied their AM, Hefin David to ban fracking in the area and to divest AM pension money from fossil fuels. More recently, they have set up a Climate Action group which is now working directly with Caerphilly County Borough Council on their zero carbon strategy.
Montgomeryshire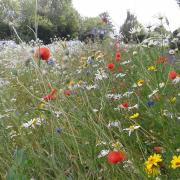 This new group started life by working towards making Newtown an official Bee Friendly town. They also worked with other residents and community groups to set up a climate action group, and supported young strikers in the area during the September school climate strike to great success.
The climate action group identified travel as an important aspect for their community, and they are applying for an active travel grant for cycling and walking infrastructure schemes. The group has divided into mini working groups which are focusing on energy efficiency in homes, renewable energy production, sustainable food production and waste management.
A 'Precious Plastics' recycling workshop is in the pipeline!
Pontypridd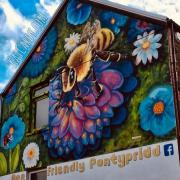 The Pontypridd group has done some fantastic work not only securing bee friendly status but working with Pontypridd Young Friends of the Earth to improve nature on road verges and roundabouts as well as drawing this beautiful bee mural on the side of a house!
They also gained the support of their local AM for pension fund divestment and organised a banner making workshop for the school climate strike in which 250 people took part.
They have also been cracking down on litter and engaged with the local community through workshops and education.
Swansea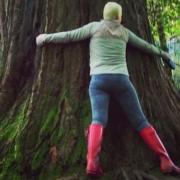 The Swansea group achieved a landmark victory in helping to prosecute a company that cut down a very old old redwood tree by creating and promoting a petition that garnered over 5,000 signatures, an unprecedented number!
They have also taken the divestment campaign a step further securing agreement from Swansea council to reduce pension fund investment in fossil fuels by 50% in the next four years (that's between £1-2 billion worth!).
There has also been progress in the areas of fracking, clean air and increasing tree cover locally.
Llangollen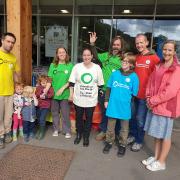 Congratulations to the Llangollen group, winners of this year's Mike Jacob award! The group organised a mass plastic unwrap at a local Aldi, which was covered by BBC Radio Wales and now they are cracking down further on plastic in their local community.
After getting their plastic free status, they decided to build on this achievement by signing up local companies to water refill schemes, and setting up a terracycle system.
In addition they organised a meeting and raised awareness in opposition of a development programme to build on Llangollen playing fields. In April they helped raise community awareness of active transport by organising a cycle to school day in which 70% of local schoolchildren and parents participated. Well done!
Thank you to all of our fantastic groups for all their hard work, let's keep building on this year's success!
If you are interested in joining a local group feel free to contact Friends of the Earth Cymru. And if you are interested in how your community scores on the environmental scale and what it can do to improve please visit our climate action network: https://www.foe.cymru/how-climate-friendly-your-area-wales