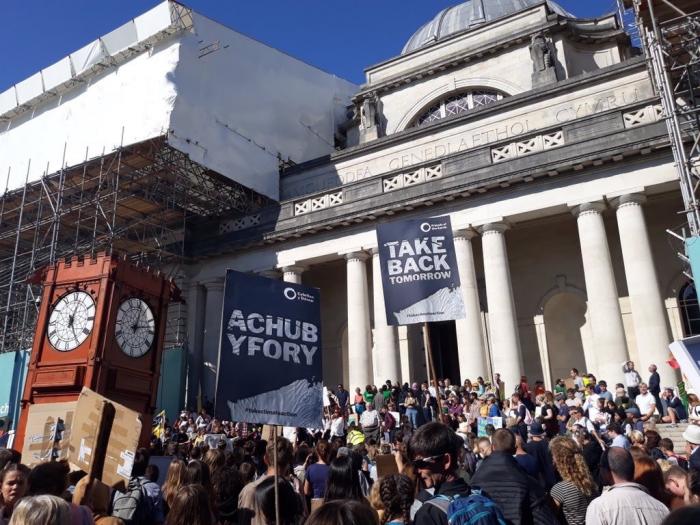 Demonstrators outside the National Museum in Cardiff during the September 2019 Global Climate Strike
What's the Global Day of Action?
The purpose of the Global Day of Action is to unite all climate activists and groups around a common goal: to demand governments and corporations limit global temperatures to 1.5°C and deliver real and just solutions to the climate crisis.
By mobilising groups and activists from across our communities, we can help make Saturday 6 November a pivotal moment and drown out the half-hearted political pledges with ambitious, justice-led demands.
This is a huge opportunity to show the strength of our groups, entice more people to join our network and support the wider movement. Will your group join in?
What can groups do?
Our network has a key role to play in making the day of action as impactful as possible. As the largest network of grassroots campaigners in the UK spread across more than 300 groups, we can add real weight to this moment and it's a great opportunity to recruit more people to the network.
Coalitions of groups are coming together to plan for demonstrations across the UK, and we'll be there to join them.
We're calling on the Welsh Government to take urgent action to stop climate breakdown and for the UK government to end its support for fossil fuels at home and abroad, and this will be our central focus and demand during the day of action.
How to take part
There are a number of ways to take part in the Global Day of Action.
1. Organise a stunt
We're calling on groups to organise stunts, calling on the UK and devolved governments to take urgent action to stop climate breakdown.
We'll be providing placards with the wording "The Earth's on Fire/Mae'r Ddaear ar Dân", and we'll be encouraging groups to make "flaming earth heads" to wear at their stunts, demonstrations and marches. We'll provide more guidance on how to make these, and how else you could get creative with this theme, in September.
A few things to think about when designing your stunt:
Who's your local focus? This could be a local decision-maker such as a councillor, a Member of the Senedd or MP, a company complicit in the climate crisis, or even a bank helping to finance the crisis. Think about how this person or company supports, or is supported by, the UK government and its relationship to fossil fuels.
Where's the best place to do your stunt? This might be based on what local focus you chose, such as outside an MPs office, or it could be based on where you can engage the most people, such as the town centre.
Tailor your messaging. We will provide template messaging for your action, but this might need to be tailored to your local context.
Engage the general public in your action. This is about getting the word out about your demand, but also about your group. Think about what you might need to engage the public – is there a way passers-by can participate in your stunt? How will you collect information on people interested in your campaign and follow up with them afterwards?
Engage local media and amplify what you're doing on social media. Send a press release to local papers beforehand and have a plan for how and what you'll share on social media. We'll be providing training on this to make sure you can make the most of your stunt.
When will you do your stunt? The main demonstrations will be taking place from midday on 6 November, so you could do your stunt in the morning before the demonstration or you could plan for it to happen along the way as part of the demonstration.
We'll be hosting training on how to host a Global Day of Action stunt to help guide you in designing creative stunts and outline the different part of a stunt that you'll need to plan for. Training will take place on 25 August and we'll email to let you know you can register. As with all training opportunities, keep an eye on our training page.
2. Help or take part in a demo
The COP26 Coalition are calling on organisations and networks to help make the demonstrations happen. Could you help organise a demo where you live? From arranging speakers to designing the route, there's lots of different ways to get involved. 
The scale of these demonstrations will be different depending on where they are, but whether it's 100 people outside the town hall, or 100,000 marching through the streets of London, there'll be messages to communicate and great people to meet. To help you figure out how to get as many groups as possible involved, read our guidance on local coalition building.  
Alternatively, if you can't help organise can you join in on the day and get your friends and family along too? Nothing says people power like a well-attended event.
Of course we recognise that the pandemic may impact your ability or wish to take part. Do what feels most comfortable for you, and please follow all COVID measures in place on the day. For more on this please see the section COVID-19 and the need for flexibility.
3. Take action on social media
Social media is key to communicating our message, and there's no end to the creativity you can use across different platforms.
Make sure you have content ready to share on the day itself. We can help on that front, as we'll be creating some graphics that you can edit and tailor to your group, as well as example copy and template posts. You could also get someone in the group to post photos or short videos of the action on your channels.
We'll be setting up online actions, like petitions and handraisers, that you can share with your community which are centred around the key theme – getting government to cease its support of fossil fuel projects. But if there's a topic that resonates with you and your community, like a proposed new incinerator in your area, use Action Network to set up your own petition.
More people = more power
We're encouraging groups to build or join local coalitions in the run up to COP. A key way we're going build the strength of our movement, ally with new and diverse groups and build power in our communities, is through local organising and local coalition building. It's also crucial in making sure that the mobilisations in November are as inclusive and as powerful as possible.  
Some of you may already be actively involved in coalitions, others might just be starting to reach out to others. Either way, we're here to support you. See our guidance on finding allies to work with.  
Given how big a moment COP is, this is a great opportunity to reach out to groups you might not usually get a chance to work with. By using climate justice framing, we'll be able to more easily draw the connections between struggles and across groups of people. You could reach out to groups campaigning on gender justice given how disproportionately the impacts of climate breakdown are on women around the world. Or to networks supporting asylum seekers and migrants given how the climate crisis is causing people to flee their homes.
The COP26 Coalition are working alongside diverse groups to host a Global Day of Action for Wales in Cardiff on 6 November. More information about this event will be available shortly. Watch this space! 
COVID-19 and the need for flexibility
We don't know how the pandemic will play out between now and November. We're hopeful that we can take to the streets, but if there are greater restrictions on in-person gatherings or if things don't feel safe or accessible, we'll need to be flexible and respond quickly.
We've tried to take uncertainty and safety into consideration when drawing up the strategy for the mobilisations in November. Putting all resources into getting everyone to Glasgow doesn't feel right, and that's why our priority is for distributed actions across the country as part of the Global Day of Action. This is where we can have the greatest impact while staying safe. And this approach hopefully allows us more flexibility to adapt local stunts and demonstrations if we need to.
The COP26 Coalition are working hard to make sure that demonstrations, both in Glasgow and around the country, are safe and accessible for participants and are in line with regional and national guidance. Please make sure to adhere to the guidelines on how to participate in each demonstration. And if you're hosting your own stunts or actions, please make sure to follow our guidance on in-person activity.